Muhammad Yunus – Banker to the poor
by Guest Author, Crea Nolan
The poor themselves can create a poverty-free world all we have to do is to free them from the chains that we have put around them.
We got rid of colonialism, we got rid of slavery, and we got rid of apartheid everyone thought each one of them was impossible. Let's take the next impossible, do it with joy and get it finished with and create a world free from poverty. Let us create the world of our choice.
The Heart of a Woman Project aims to empower women in South Africa to generate an income through the use of mobile technology.  Using mobile technology is an excellent example of appropriate technology which goes far beyond simply communications between people.  Training the women in mobile photography will give them the opportunity to provide an income for their families and when women are empowered whole families benefit and these benefits can and will have effects on the future generations.  – 'they can make choices in their lives and transform those choices into desired actions and outcomes' (World Bank) .  Participating in this project will lead the women to an increase in confidence, skills and knowledge.   This project is a highly innovative project and innovation is the key to promote gender equality and empowerment of women – this project will help promote the Millennium Development Goals of the United Nations 2015.
Muhammed Yunus – Banker to the Poor – stated that 'poverty is unnecessary ', yet 70% of women living in the developing world live in poverty. If only 1% of these women were empowered to climb out of their life of poverty and inequality, then this project will be a success and if the HeART of a Woman Project is established in more developing countries then it will truly meet the Millennium Development Goals of the United Nations 2015.
'I am what I am because of who we all are' (Ubuntu)
If you want to go quickly, go alone. If you want to go far, go together. ~ African proverb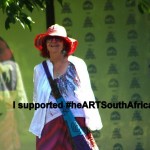 Crea Nolan is from County Carlow in South East Ireland. She is a wife, mom and grandmother and a believer in women's right which she says are human rights. She has worked in community development for many years helping women from Africa seek refugee and asylum status.