My friends, love is better than anger. Hope is better than fear. Optimism is better than despair. So let us be loving, hopeful and optimistic and we'll change the world – Jack Layton.
My open letter to the world…
I cannot even begin to express my gratitude. My list of people to thank is endless. I am so moved to see the world, quite literally, coming together to support The heART of a Woman Project and the unemployed mothers impacted by poverty at eKhaya eKasi in Khayelitsha, (Cape Town) South Africa.
My vision of the Ubuntu philosophy of interconnectedness and "it takes a village" for the project is unfolding before my eyes and might I add they are teary this afternoon from the outpouring of support for this cause.
To see all the mobile photographers and mobile photography communities, travel bloggers, travel writers and travelers come together is heartwarming — I feel a part of both these groups as both a photographer (iPhoneographer) and a traveller (travel blogger).
Mothers, fathers and anyone wanting to make a difference, many of whom are unemployed and have their own struggles are donating and for those that can't, they are writing posts, hosting widgets or badges on their blogs and websites and supporting with countless tweets/retweets that I can barely keep track of as well as Facebook posts and Instagrams.
These are all the things that are happening behind the scenes in addition to the numerous messages and emails I am responding to, phone calls and skype calls and interviews I've done and have yet to do. Will share the pieces once they're released.
I want to thank my IRL friends and family that are donating, sharing my facebook posts and tweets, sharing in the ups and downs and doing what you can to support me and the women in what we are trying to achieve at eKhaya eKasi in South Africa.
I want to take this time to also thank my dear husband for his unconditional love and support of me, the project and my travels and to hold the fort down while I travel. I want to thank my 2 young sons for sharing me. I know that without their support, I wouldn't have travelled to Africa and South Africa in the first place and I wouldn't be able to carry this idea into fruition.
I know that none of you, those I know personally and those I have yet to meet, have to do any of this. After my entry in the G Project competition, I was prepared to go to South Africa with the 2 iPhone 4's we have and teach as I know it can make a difference, but with others getting involved it will be so much better. It truly does take a village and community. With the donations we have so far, I can take more than just the 2 iPhones to eKhaya eKasi.
I feel this is a success just by the efforts alone and people doing what they can to spread the word.
If only we could fund it purely on love, but alas we cannot, we need finances to make this happen.
I have replayed the video of the women at eKhaya eKasi countless times because it motivates me in the day to day with all the work that needs to be done and connects me to the real people that need our help and want to be empowered.
I urge any of you that have not yet seen the video of eKhaya eKasi and THOAW to just take 5 minutes of your time to watch it and then tell me you are not compelled to want to DO SOMETHING!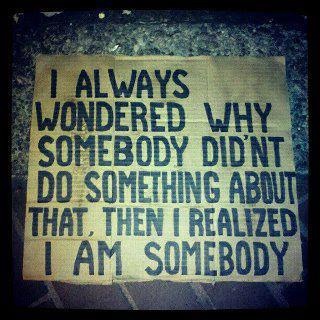 I know South Africa is a world away to most and how easy it is to just ignore, but you have a chance to make a real difference to real people I have met and will meet. People I will break bread with and photograph with. This is as grassroots as it gets!
One $10 donation ALONE cannot do much, but many $10 donations TOGETHER can and will make a difference!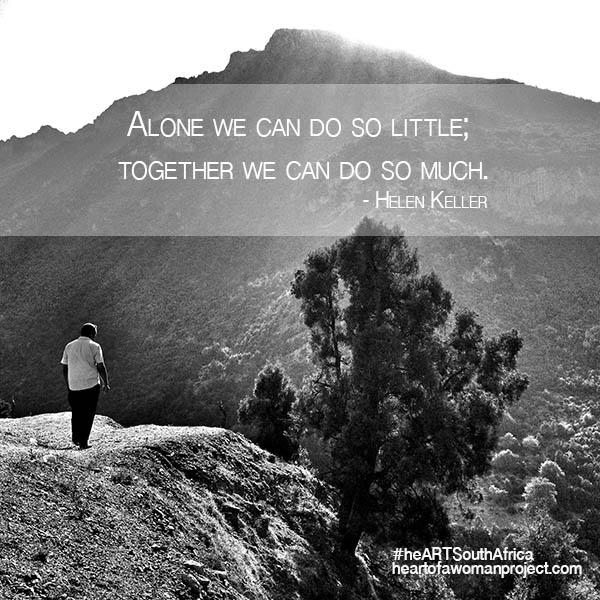 In the words of the G Project that got this whole ball rolling back in May 2013-
What Will You Do Today For Tomorrow?
and in the words of Nelson Mandela –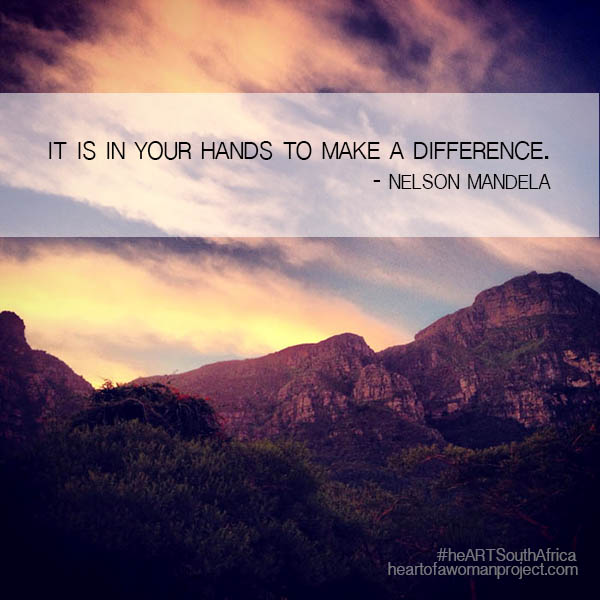 Update October 22, 2013:
We finished the Indiegogo Crowdfunding Campaign at $3030 and have 2 iPhone 4's, 1 pledge for an iPhone 4s (thanks Dad) and another iPhone 4 en route as I type (thanks Jeannette L).
I have been fundraising for 10 participants to start the program, but we ran short of our fundraising goal on Indiegogo. With what we've raised so far and the iPhone donations, we will be able to welcome 5 participants as the wonderful MobiTog community did it! They raised funds in one weekend to "sponsor a participant".
My flight is booked for November 11th and I arrive in Cape Town late on November 12th, 2013. Funds are still very much needed, so THOAW will continue to accept donations to fund what is needed for the workshop and to provide on-going support after project implementation.
We understand if it is not the right time to donate financially. There are other ways to get involved if you believe in this cause.
How You Can Help Right now:
Thank you. Enkosi. Ubuntu