Day1:
What an absolutely amazing day. Day 1 started off with me being picked up by Lulama, eKhaya eKasi's coordinator and Buli. It was fantastic to see Lulama again and even though I had only met her once before, it felt like I was meeting an old friend. Lulama & I had a chance to discuss organizational details on the way to Khayelitsha which is about a 40 minute drive from downtown Cape Town.
Once at eKhaya eKasi, I was greeted by the women who were already there and then Lulama & I settled in so we could continue to discuss the organization of the project including who was to use each donated iPhone during the workshop.
Lulama spoke in Xhosa to the women to explain the project. Lucky for me there were some English words thrown in so I managed to grasp a bit of what she was saying. She then introduced me and we began day 1.
We handed out the iPhones and went right to the basics from turning it on, closing the screen, turning the screen back on, understanding the home button, organizing the phone such as moving icons/apps around, creating folders, moving them from one page to another, zooming in, pinching and using notes.
All of the women speak English, clearly understood these concepts and picked it up seemingly well. I then had them go around the centre and photograph anything, they all gravitated towards the art boutique. I just wanted to see where they were at photography wise.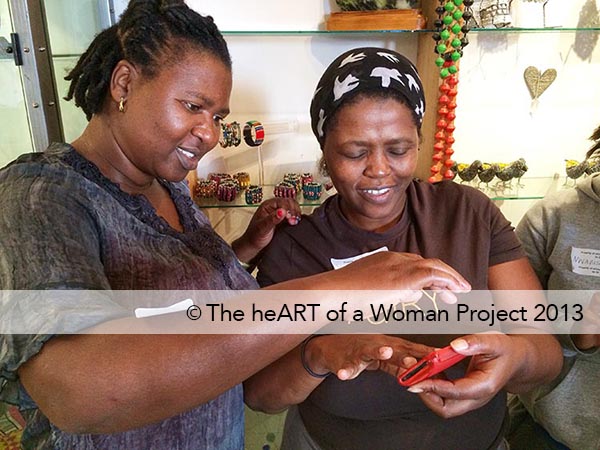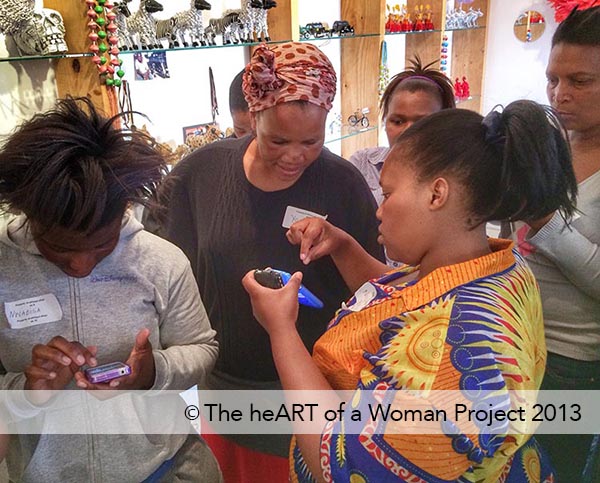 We then moved on to composition. I started with my personal favourite tip "fill the frame". I showed the corresponding page from Darren Richard's (team MobiTog) highly visual composition guide which I had printed and passed it around. With my iPhone camera at the ready I showed them a live example of "filling the frame" and asked questions and they would respond. We had photo challenges where I would ask them to photograph something then I'd take 2 or 3 iPhones at a time and put them side by side and let them vote as to which was the better image and we would discuss why. They would all point to the same photo of the one that I too thought was better so it helped them to recognize what makes a great photo.
We were hands on and interactive and I can honestly say their photography improved from the start to the end of Day 1. Aside from going through all the composition concepts in Darren's guide, we also talked about lighting including catchlights, open shade, depth/modelling and 3d vs flat lighting. Lulama's education is in the arts and she has an extensive art background. She noted that the photography concepts I spoke of in perspective and in lighting were similar to that of art and painting, specifically when we talked about still life. It just so happened that there were a collection of apples that were their snacks at the end of the workshop that we used as a subject and helped explained these concepts. I noted to her that photography is just painting with light.
These women are amazing and are fast learners and they were even taking notes. I couldn't be more proud of what they accomplished in just about 4 hours of training. Three of the women capture photos from time to time on their own personal phones and have Facebook accounts and 1 has a twitter account, WhatsApp and WeChat. The rest of the women have not photographed before or have been involved in social media and none of them had ever heard of Instagram.
It's going to be so fun when we are out and about in Cape Town and the Cape Peninsula and we will be Instagramming! I rented a portable wifi unit and have 3G/4G data on my phone and can tether so most of them can be connected at the same time to participate in social media! We will spend part of Monday setting up Instagram and twitter accounts and learning Instagram which we will feed to twitter. You won't need an Instagram or Twitter account to see their images as I will share the URLs in a future post. If you want to follow along live, be sure to go to Wandering iPhone or The Heart of a Woman Project page on Facebook and click on the Instagram Feed tab, then click #heARTSouthAfrica. If you are already on Instagram follow @wanderingiphone or the #thoawSA hashtag
Your donations and support has made this happen as The heART of a Woman Project donations provided 1 of the iPhones, the accessories from cases to mobile chargers, my transportation to/from Khayelitsha and for meetings, portable hard drives and so much more as well, we will provide a daily lunch to the women and the centre's support staff. The rest of the 10 iPhones have been donated by the MobiTog community, Wynford Rees, Christian Henry, Jeannette Lopez, Melissa Shearer, Richard Gray, Mariellen Ward, Roger Gilbert and myself (2).
A huge thank you to James Fernie of Uthando South Africa for providing it's touring van for 2 days that will transport the women to and from Khayelitsha to Cape Town and the Cape Peninsula next week and special thanks to Xolani who will be driving us around. We will be joining the City Sightseeing Hop On/Hop Off  bus red route one day and touring the Cape Peninsula the other. A special thank you to City Sightseeing for sponsoring the trip and to Inge Dykman from Cape Town Tourism and Judy Lain of WesGro for helping to make it happen!
Ubuntu – I am because we are
Andrea