What an incredible week we had last week. The women explored Cape Town, Table Mountain & the Cape Peninsula while learning how to use an iPhone, mobile technology and social media. They learned about photography and photography essentials such as composition and lighting. The week started off with us being treated to the Hop On/Hop Off Red Route Tour by City Sightseeing on Monday November 18th, 2013. They had the freedom to take photos at will and enjoy the sites. After touring the entire route, we stopped for lunch at V&A waterfront and then got back on the bus again. At lunch we were joined by Nicolas, a blogger for City Sightseeing South Africa. We got off at St. George's cathedral and took photos around the church and through the gardens as we walked towards Mount Nelson to join the red bus again. We stopped for a free photographic exhibit at The National Library of South Africa called Lenses & Shutters as Witnesses which showcases many unique historical images. It was an opportunity to look at some of the photographs on display and discuss them. We also took the opportunity to practice a little bit of window light portraiture as there was stunning window light on the 2nd floor of the library. Again, thanks to Judy Lain from WesGro, Inge Dykman from Cape Town Tourism and Shaun Mason to help make that happen. Thank you also to James of JamesCapeTown on twitter who introduced me to Judy via Twitter after Jaunted released an article about the project and Nicolas and Carmen for the blog coverage. We finished the wonderful day off with a sunset view from Signal Hill. It was the first time the women had ever been on the City Sightseeing Cape Town bus and enjoyed a sunset view from Signal Hill, they loved it. Thanks to a volunteer from Cape Town, Amina for joining us on Monday.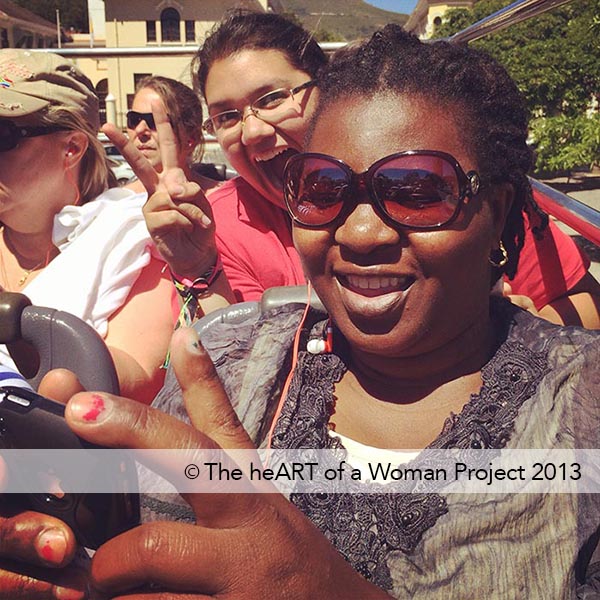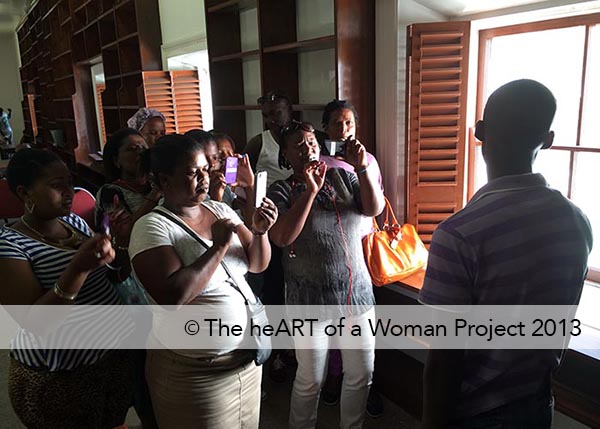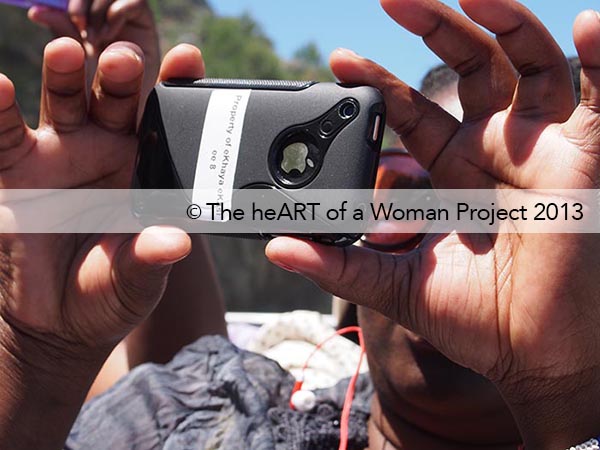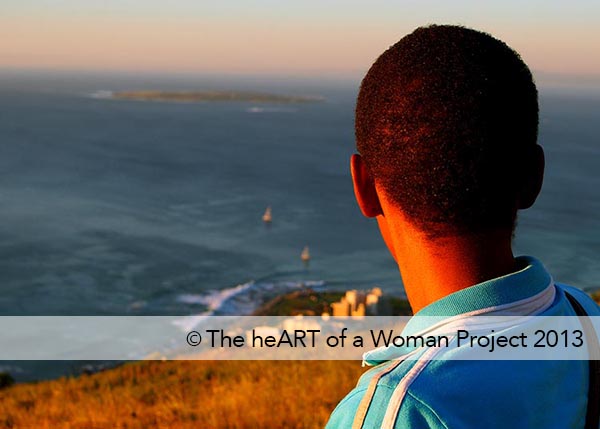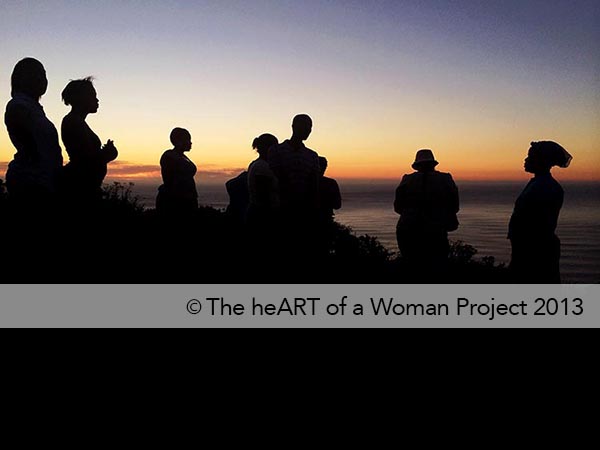 On Tuesday November 19, 2013 we explored the Cape Peninsula and got to see the beautiful coast, a bit of Simonstown and the African penguins at Boulders Beach. We stopped for some photos and enjoyed a packed lunch at The Cape Farmhouse. We practiced portrait photography and I had some time to capture a profile photo for each of the women while there. After lunch we went to Scarborough Beach and made a few roadside stops where the women practiced compositional elements such as "leading lines" and "framing". We ended the day at Table Mountain. What a spectacular way to end our field trips into Cape Town and the surrounding areas and a huge thanks to Florence Vanleauven, a specialist in Cape Town tourism and Taryn from Table Mountain  for helping to make that happen.  Thank you Lisa Paterson and Table Mountain for sponsoring us. The women were absolutely thrilled, it was an incredible experience. A special thank you to James Fernie and Xolani of Uthando South Africa for providing transportation for the women to travel to/from Khayelitsha and the Cape Peninsula.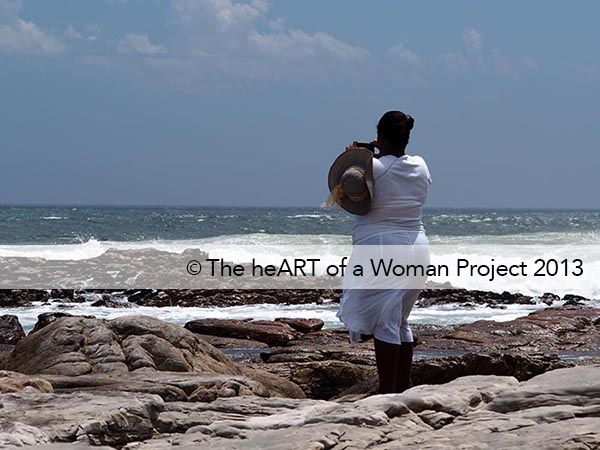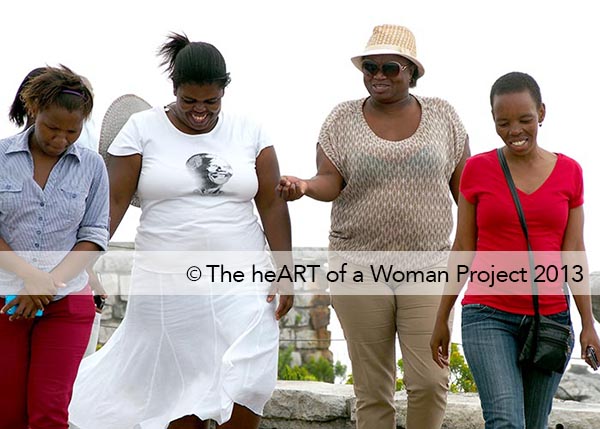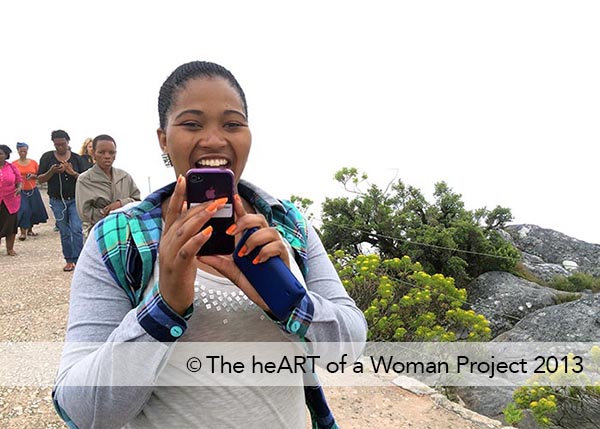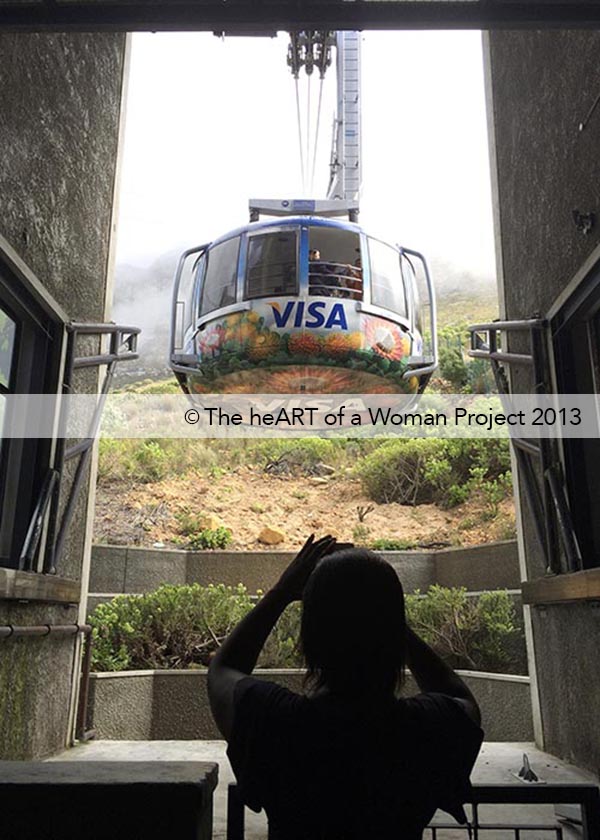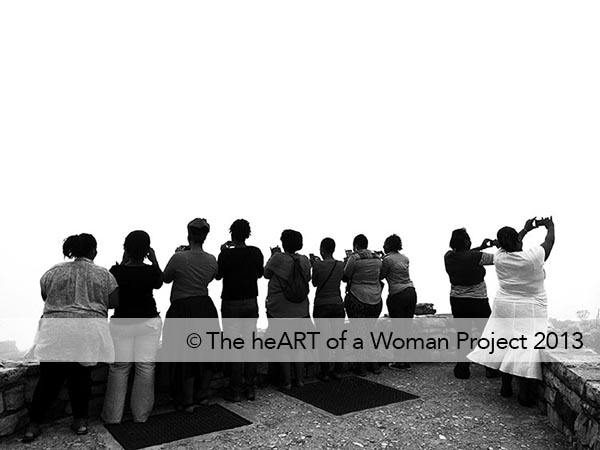 We were back at the centre Wednesday to Friday. Amina was back with us on Wednesday and helped me get all the women online. They are now online with their own gmail, Instagram, Twitter and Facebook accounts. They have been using Instagram and Twitter primarily, you can follow the hashtag #thoawsa to see their images on both Twitter & Instagram. We are using a portable wifi unit I rented and my iPhone as a hotspot. There is some 3G coverage in Khayelitsha, but it often turns to Edge so it can be rather slow and spotty. With donations, The heART of a Woman Project will provide a portable wifi unit and prepaid data for 6 months after I leave so they can continue to engage in social media while at the centre.
On Thursday night, I spent a night in Khayelitsha with a stay at the bed & breakfast part of eKhaya eKasi. I thoroughly enjoyed myself there and it is a fantastic way to immerse in Township life. I got to spend time with Lulama, the centre's coordinator and was able to see  a bit of Mfuleni, another Township. Esther, one of the  participants also joined us on the overnight. I got to know a bit more about Esther and learned she has 4 children.
On Friday, I was invited to Lookout Hill in Khayelitsha after meeting Sisa on twitter before my visit. It was great to finally meet him and explore the facilities available at Lookout Hill. Lulama and Nwabisa, one of the participants, came along with me. While there I also met with Luvuyo Rani, one of the co-founders of Silulo Technologies. I had also been speaking with Luvuyo over twitter prior to meeting him, so it was great to finally meet him as well. Silulo is the primary internet cafe in Khayelitsha and has trained many residents in basic computer technology. Luvuyo had put together a 2 day conference called eKasi entrepreneurs at Lookout Hill and Friday was the final day. He invited us to sit in on the talks that were going on, so all the women joined in for a short time. After leaving Lookout Hill we picked up some lunch at Site C and took it back to the centre.
I feel so privileged to get to know more about Township Life and to be immersed in such a way. I am sure I am experiencing it more than most travellers and local Capetonians for that matter. Khayelitsha is full of life and is a vibrant community. My wish is that it becomes a real destination for those visiting Cape Town and more than just a quick dart through. There is so much to learn and so many amazing and inspiring stories. I so wanted to document while I was at site C, but I would rather leave that to the women so they can capture their Khayelitsha in the most authentic way. My hope is that the women will tell the stories of Khayelitsha in the coming days and as the project moves forward.