Our women's mobile photography cooperative in Khayelitsha, South Africa needs your help!
A call for local & global volunteers & mentors, donations, sponsorship and ambassadors.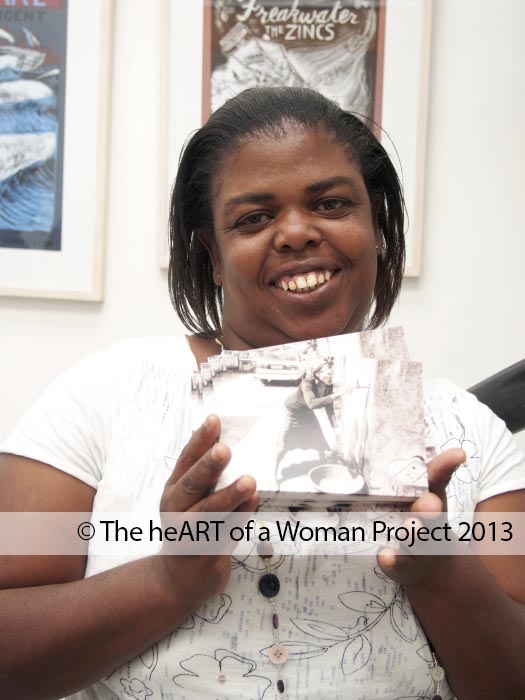 November 15-30, 2013: Phase One of The heART of a Woman Project South Africa was successfully implemented. It culminated in 11 days of workshops in photography, mobile technology, basic computer skills and social media. On November 30, 2013 each of the 9 participants received 200 postcards of one of their images to immediately begin selling in the on-site art boutique at eKhaya eKasi, their art & education centre in Khayelitsha, South Africa. The postcards have been selling and have already begun to make a difference.
Our lives have changed for the better because since we started selling the postcards we have been getting some money. The money has helped us a lot, we are able to buy more food and clothes for our families. We are still looking forward with the project wishing to grow further with the photography and possible going to going to over seas with it. I would like to say thanks to Andrea Rees for making a difference in our lives and that she should keep on helping the less fortunate people where she can just like she did with us. — Nwabisa Ndongeni, mother of 2 and thoawSA project leader
Social media is helping to bring awareness, but as with anything, everything takes time to develop. The women have reported that they've been able to put more food on the table, buy clothes or shoes for their children or themselves, pay school fees, pay transportation and more. Sales at times have been slow as there is currently only one tour company that brings tourists to the centre.
Phase Two Goals: More workshops (local & via web), acquire more retailers locally & globally, partner with tour companies to bring more tourists, develop tourism opportunities, acquire volunteers and mentors, launch new products, photography exhibition
February 2014 –  The Backpack, an award winning hostel and recently named as the #1 budget hotel by Lonely Planet, began selling the series 1.0 postcards in their community shop. In March 2014, they ordered additional postcards.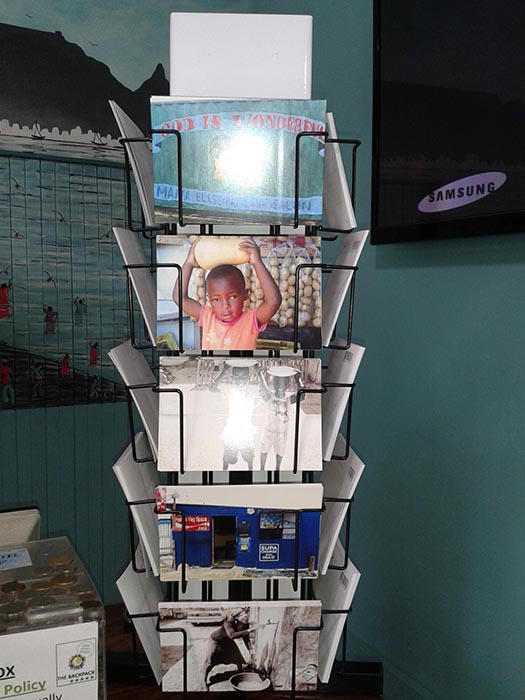 May 2014: Andrea is returning to eKhaya eKasi to begin phase two.  Check out our goals for this next phase.
We appreciate and welcome any support as every little bit helps fund and keep the program operational in this 'start up' phase. 
One time Donation to Crowdfunding Campaign or Monthly Sponsorship
Our current crowdfunding campaign ends in 17 days.
A $10 donation will help pay for the project leader's data to keep in touch with Andrea as she mentors Nwabisa on a regular basis.
A $25 donation pays for 5 visits a month to Hubspace Khayelitsha (monthly membership required). It's an open concept workspace only 3km away from the centre that allows unlimited and uncapped wifi. This will allow Nwabisa to install & update apps & the iOS, engage in webinars, Skype/facetime calls, watch educational videos, participate on MobiTog (an online mobile photography forum & the THOAW support hub).  The boardroom which can hold 8-10 people is only $1/hour which will allow distance learning through webinars, videos and video calls.
A $25 donation pays for internet for 1 month for the women to continue to engage on social media and bring awareness.
A $50 donation pays 1 month of a nominal stipend for the project leader to help facilitate the program
A $100 donation helps create new products for sales which helps the women work towards sustainability
Some of our goals include: workshops, new products and a photography exhibition during Cape Town's 'Month of Photography' in October 2014. Learn more about our phase two goals.
Local and Global Volunteers & Mentors Needed:
Do you have experience in PR? THOAWproject could use your expertise to get the word out. Do you have Social Media, Photography Education, Sales, Marketing, Administration, Business, Proposal & Grant writing skills? — how about giving a workshop?
Consider giving a workshop(s) in person (Cape Town/Khayelitsha) or through web conferencing (coming soon)
Can be one time, a series of workshops or an on-going commitment (minimum 6 months)
Join our Blogger program and/or become a THOAW Ambassador
Write a blog post, host a widget or badge and we'll link back to you
Simply, help spread the word and become a THOAW ambassador, host a badge
Follow #thoawSA on Twitter & Instagram and help spread the word
Corporate Sponsorship Opportunities 
This project relies on the goodwill of organizations that recognize the importance of empowering women. This is a hand up, not a hand out. Boost your CSR (corporate social responsibility) and make a tangible difference in the lives of the women of 'heART of a woman South Africa'.
Purchase 1.0 series postcards/prints
If you have any questions or have media, sponsorship or volunteer inquiries, please connect with me (Andrea). Thank you!