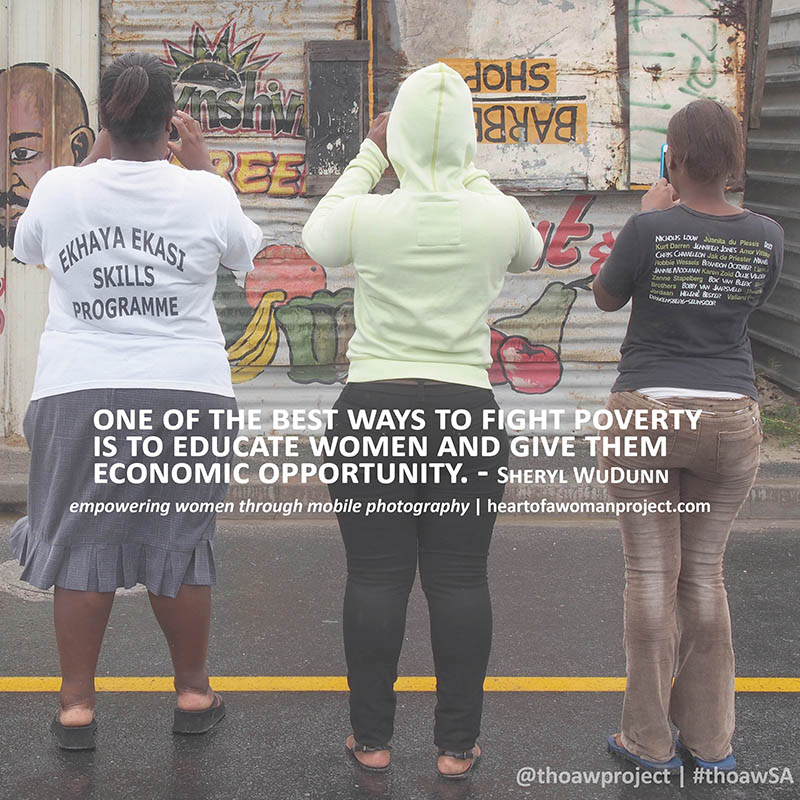 The heART of a Woman Project is a small grassroots initiative that works with non profit organizations to provide education in mobile photography to women impacted by poverty. It aims to empower women to have a voice, creative outlet and sustainable income through the sales of photographic art products.
With your generosity, we will be able to provide support to Project South Africa (thoawSA) as they work their way to self-sustainability and provide funds for:
A stipend to the local coordinator to help facilitate the project
Internet – so the local coordinator and women can engage on social media to bring awareness and more visitors to the centre
Marketing (printed material, print samples, display stands, new products, photography exhibition)
On-going education (workshops, webinars)
Transportation (off-site meetings, product delivery)
Develop tourism products (i.e. Township photowalk tours)
On-Going Fundraising:
One hundred percent (100%) of all fiscal donations and sponsorships has been and will continue to be invested into the project in South Africa to keep the program operational. Andrea's time and talent has been on a voluntary basis since May 2013 and she pays all her own flight & travel expenses.
——————————————
One time Donation:
——————————————-
Monthly Sponsorship:
Email Money Transfer (Canadian supporters only):
Please contact Andrea Rees at connect @ heartofawomanproject. com
——————————————
To Send a Cheque  (Canadian supporters only):
Made payable to: The Heart of a Woman Project
**Please Address it to: Andrea Rees**
116-10 Gillingham Drive Suite 490 | Brampton, Ontario L6X 5A5
——————————————–
Other Ways to Help Make a Difference: