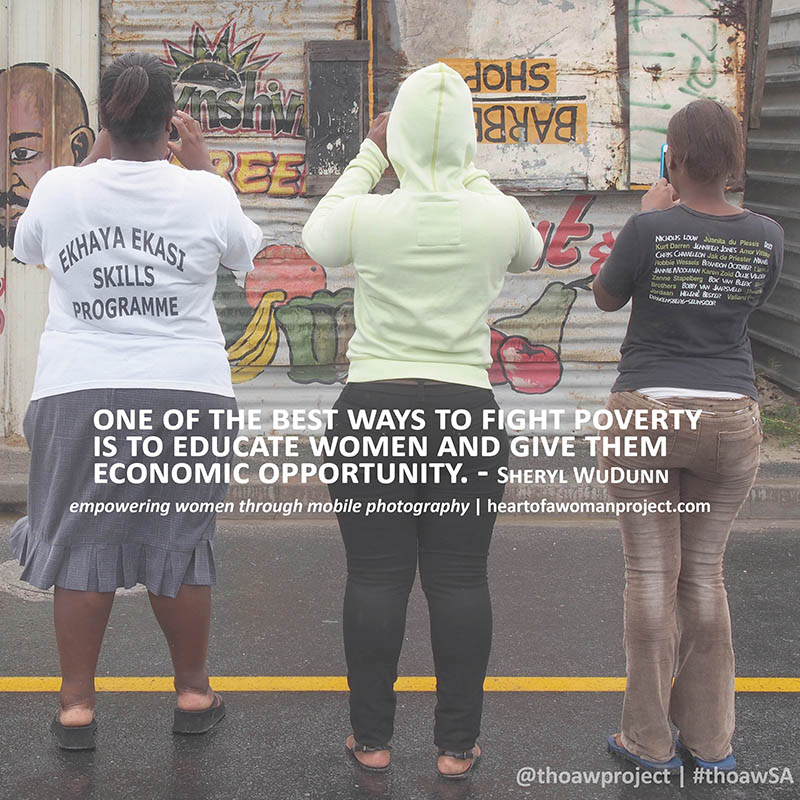 Mission: To educate women impacted by poverty, in photography, mobile technology and social media. It aims to empower, have a voice and create sustainable income and small business through the sales of their photographic art products.
The pilot project was implemented at eKhaya eKasi, a non profit Art & Education centre in Khayelitsha, South Africa in November 2013. Learn more about the story here.
This project is made possible through fiscal donations, iPhone donations, sponsorships and photographic art products sales. It relies on the interests and good will of businesses and individuals who recognize the importance of 'a hand up, not a hand out' approach to transfer skills and empower women in less economically developed communities to provide for themselves and their children.
We invite you to become a part of this initiative by joining the Corporate Sponsorship or Sponsor a Participant programs. Connect with Andrea if you'd like to align your company with The heART of a Woman Project that uses technology and photography.
Sponsors:
Gold Sponsor:
6dVision Corporation is an I.T. company. It has provided fiscal sponsorship, is our technology advisor and has donated a used laptop and iPhone 4s.

Andrea Rees Photography offers portraits of newborns, babies and their families as well as women's portraits. ARP has provided fiscal sponsorship, mentorship, training and support and has donated a number of electronic devices. A portion of all sessions is donated to THOAW. 
Silver Sponsor:

Bronze Sponsor:

Reno Roofs is a painting and roofing company in Cape Town that sponsored 5gbs of data on a monthly basis for 2 years. We thank Reno Roofs for their generous monthly support.

Richards Imaging has been a wonderful support since the beginning of thoaw. We'd like to thank RI for their monthly sponsorship that goes towards workshops and ongoing education.

VadoVia is the iPad Travel App. VadoVia is built for travelers by travelers. It's crowd-sourced by travelers — no paid promotions or out-of-date information — only the inside scoop from those who have "been there, done that." VadoVia is the place where professional travel writers and personal travelers come together to share the little secrets only the locals know. Thank you Vado Via.
Printing/Graphic Design

Graphics For Bloggers – The logo as well as postcard, greeting card and thoaw business card has all been designed by Mary Chong of Graphics For Bloggers. Mary is professional, knowledgeable and wonderful to work with and offers quality service in a timely manner. Thank you GFP for all the graphic design.
Minuteman Press in Meadowvale lead by Steve Hartery is a full service printing centre. MMP printed and sponsored our latest batch of greeting cards and what a wonderful job they did. They are backed by great and warm customer service. Thank you Steve and Minuteman Press.

MobiTog is an online mobile photography community with members from around the world.   MobiTog has been a wonderful support thus far in raising awareness, raising funds to "sponsor a participant" and members have  created tutorials  for the #thoawSA participants to use as a reference. Thank you MobiTog.