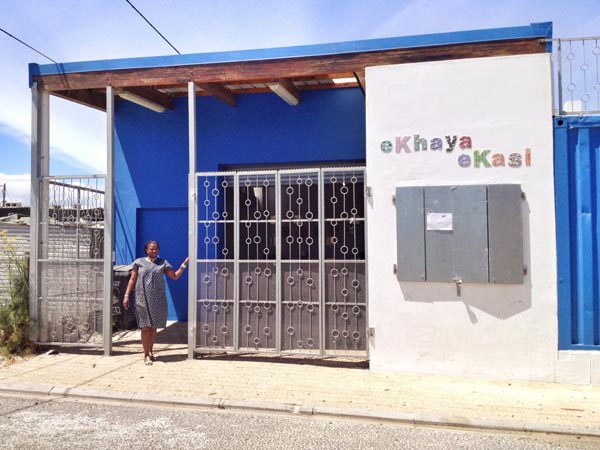 The Story:
As a professional photographer, Andrea had long searched for ways to give back with photography. It wasn't until a trip to South Africa in December 2012 and a visit to eKhaya eKasi Art & Education Centre in Khayelitsha, a township in Cape Town that she realized how she may be able to do so.  The model of education and empowerment through the arts at eKhaya eKasi inspired her and The heART of a Woman Project was born.
In November 2013, Andrea returned to eKhaya eKasi armed with 11 used iPhones and offered 11 days of workshops in photography, social media and mobile technology with the help of fiscal and iPhone donors through crowdfunding. At the end of the workshop each of the 9 participants received 200 postcards of one of their images to sell in the on-site art boutique at the centre and/or through partners in tourism. Phase one of The heART of a Woman Project South Africa began.
In May 2014, Andrea returned to eKhaya eKasi to launch phase two which offered further workshops in social media, computer skills and photography. A new product, greeting cards, was launched and the first ever #instameetEKASI took place between thoawSA ladies and members of the Cape Town Instagram community.
November 2014 marked the 1st anniversary of the #thoawSA program at eKhaya eKasi. To acknowledge the accomplishments of the year, a photography exhibition and cultural celebration took place on November 22nd at eKhaya eKasi.
Read: Three years of women's mobile photography and digital literacy in a South African Township
Meet the ladies of 'heART of a woman' project in South Africa
Why Mobile Photography?
On a trip to Europe in 2011, Andrea captured images of her trip with an iPhone 4 and created a coffee table book. After receiving the book, it was then that she realized the capabilities of it and has promoted the iPhone as a viable camera ever since. So much can be accomplished with one mobile device from taking the photo to post-processing (editing), to sharing on social media to printing photographic products through apps. The learning curve is much shorter compared to other cameras and allows the mobile photographer to focus on capturing images rather than thinking of the technical details. It is a camera that can always be with you and is an affordable option especially as Andrea sought to acquire donated used iPhones as iPhone users tend to upgrade often.
While global economically developed communities have been progressing along with the technology advances, much of the less economically developed communities have not had the same access and therefore have not had the same opportunities.
As Andrea began to earn income from her mobile photography, she asked herself  "what if I could teach iPhone photography to women impacted by poverty, could they earn some income too?"
To learn more: 
and even more: 
Though Andrea is based in Toronto, Canada, she regularly mentors the participants in South Africa.