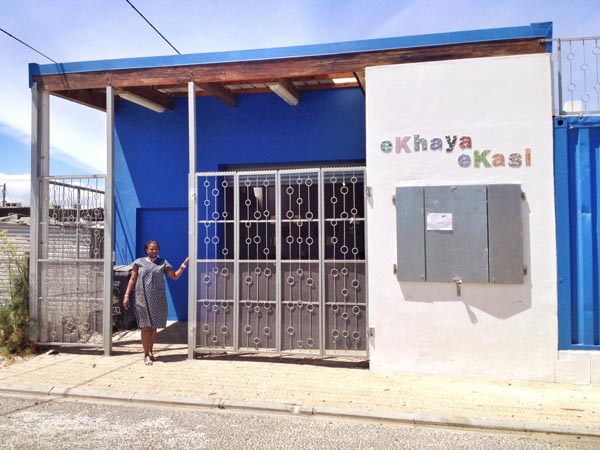 eKhaya eKasi means 'home in the hood' in isiXhosa. It is a non-profit Art & Education Centre in Khayelitsha, South Africa, a township about 30 minutes from the Cape Town CBD.
It is home to The heART of a Woman Program in Cape Town, South Africa and is as a multi-purpose community centre in a residential area of Makhaza. It is run and staffed by women living in the townships and serves over 400 local residents.
eKhaya eKasi provides the following activities, programs and working space for the community: 
An Arts and crafts program – beadwork, silk screening
The heART of a Woman Project (thoawSA), a mobile photography, social media & computer skills program
After School Children's Program
Arts & Crafts
Literacy
Health & health education (HIV/AIDS)
Meals on Wheels
Rooftop Garden
and much more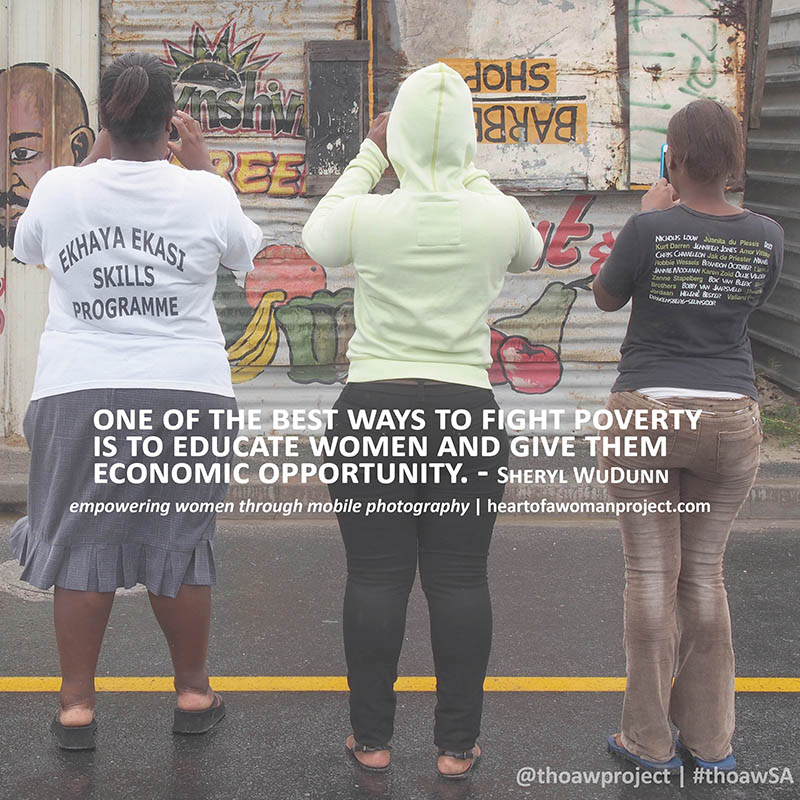 Gifts and Tours with a Social Impact
In order to support the programs and become self-sustaining, it generates income through its on-site art boutique and through tourism. The art boutique focuses on Folk Art and handmade crafts by artists at eKhaya eKasi, from the community and other areas of South Africa. You can also purchase THOAW South Africa postcards and greeting cards of township life. All images were created using a donated previously owned iPhone.
The goal is not only to draw tourists into an area that did not previously have tourism attractions and offer an authentic cultural exchange but to provide economic opportunity and sustainable income to the artists and residents that partner and work with the centre.
Tourism:
Going to Cape Town? Support local. 
Visit eKhaya eKasi, a non-profit Art & Education Centre in Khayelitsha, South Africa and go on a photo walk with THOAW South Africa project coordinator Nwabisa and immerse in township life.
eKhaya eKasi is easy to get to if you're driving or plan a visit with Uthando South Africa and request a visit to eKhaya eKasi, tell James & Xolani that I (Andrea) say hello.
Your visit directly helps make a difference and improves the lives of women and their families impacted by poverty.
Traditional cooking class
Beadwork class
Traditional meals, group lunches
Musical performances
Djembe class (African drumming)
Township Tours
Photowalks
Every sale and visit offer travellers to Cape Town and Khayelitsha an opportunity to make a difference and help improve the lives of those that are impacted by poverty. 
——————————–
All visits must be booked in advance. 
Please contact:
Landline: 021 801 9523 | International: dial 27 021 801 9523
Lulama Sihlabeni, eKhaya eKasi director 
In South Africa: 083 681 0604 | International – 27 083 681 0604
Twitter: Lulusihl
Skype available on request
Busisiwe Dalingozi, eKhaya eKasi manager 
In South Africa call – 073 020 8256 | International – 27 073 020 8256
Twitter: BusiePlata