The heART of a Woman Project (THOAW)
We are a small grassroots initiative with BIG goals and ideas. We rely entirely on the good will of our volunteers and mentors that recognize the importance of the "a hand up, not a hand out" approach and transferring skills. Currently, it's just Andrea working on the day to day operations on a voluntary basis since May 2013.
We believe in the Ubuntu philosophy which is a beautiful word in the Xhosa language (the language of the women we mentor in South Africa) that in summary means "I am what I am because of who we all are."  Ubuntu speaks of the interconnectedness of all people; it is humanity.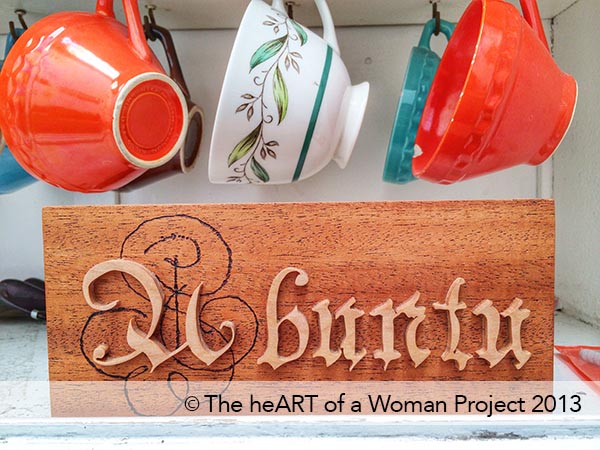 Current Project – project heART South Africa
Our pilot project was launched in South Africa 
November 2013 at eKhaya eKasi Art & Education Center. 
Together, with our knowledge and skills
, we can make a difference
in the lives of women and their children in Khayelitsha, South Africa.
THOAW Volunteer Positions Available:
With as little as 1 hour per week or a few hours per month, you can make a difference. This project is only made possible with volunteers.
Cape Town, South Africa Residents Only – Will need to travel to Khayelitsha
Mentors & Workshops:
We are looking for individuals that want to make a difference to help the women on their path to sustainability as the main goal of this project is for them to be self-sustainable as a co-operative. This is a wonderful way to give back with only a few hours of your time.
Workshops:  Can be a one-time workshop or on-going series.
Mentors: We are looking for a minimum commitment of 3 months. Mentorship can be done on an as-needed basis as the goal is for the women to be empowered (1-2x/month).
IGer (mobile photographer), professional photographer or advanced amateur photographer with good working knowledge of iPhone/iOS, Snapseed, Instagram, Facebook & Twitter as well as print experience (preparing images for print/dealing with pro labs & printers). We are looking for 1-2 individuals that can help mentor the project leaders in Khayelitsha
Social Media
Marketing
Public Relations
Sales – to acquire more retailers
Educators – Photography, mobile technology, computer technology, small business

Tourism – develop tourism opportunities 

Non-profit
Computer literacy
Global Volunteers:
You can volunteer from anywhere in the world and make an incredible difference in the lives of the women, their families and the community. We need help to get the word out and market this incredible and worthwhile project. If you have experience with any of the following and believe in this project, let's talk.
Public Relations
Marketing
Fundraising and sponsorship, grant and proposal writers
Sales
THOAW Ambassadors
We need help to get the word out Help us spread the word and about the project on your social media channels and/or blog.
Social Media

Blogger  – 

Write about the project for your blog and/or host a badge on your site and we will link to your blog post. Check out the Blogger Program
Virtual Assistant(s): 
Communications, Social Media, Administration
Minimum 8 hours per month
If you have any of the above skills, please complete the form below as we are currently taking applications for 1-2 volunteers that can commit to a minimum six months.